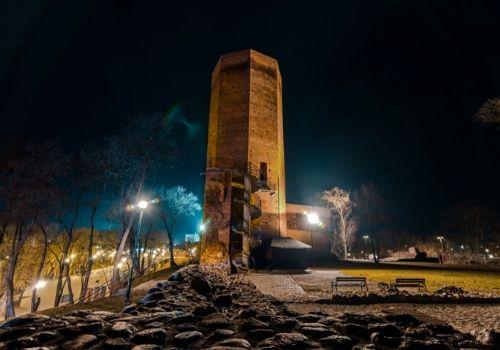 Mouse Tower - is the most recognized monument in Kruszwica. It is also the unofficial symbol of the town. The neo-gothic brick tower from the 14th century is commonly known as the Mouse Tower. It is the octagonal, 32-metres tower. With the remains of walls, it is a part of defense castle remnants. The castle was founded by kink Kazimierz the Great. From the top the tower, there is a fine view of Gopło Lake and the town. Tourists are particularly interested in the Kruszwica chakra - the legendary stone, which has healing properties, is located under the Mouse Tower.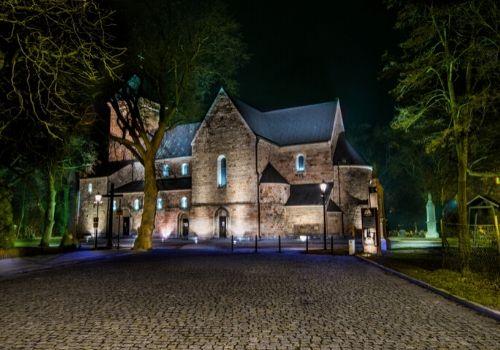 Collegiate - On the east bank of Gopło, there is theSt. Peter and Poul collegiate, one of the most precious and best preserved monuments of the Romanesque architecture in Poland. The Kruszwica temple was built in the beginning of the 12th century. It is made of granite and sandstone blocks. Being a tri-nave pillared basilica, it was erected on the plan of the Latin cross. The Romanesque character of the object is emphasized by the bold, stone walls, semicircular arches and basic geometrial shapes. The church interior is very severe, almost ascetical. Naves, a transept and presbytery are covered with a massive roof, vaults of apses are made of small stone and flints, and the oldest crossed stone arches vaults in Poland are still present in tower porches. The east facade of the object is an interesting composition of five symmetrically placed apses. The south part of the building is decorated with there Romanesque portals. The west basement is made of stone in the Romanesque style, while the upper brick massif is in the gothic style.
The valuable monuments of the Kruszwica collegiate are two fonts - the sandstone one from the 11th century, and the granite one from the 12th century. In 1954 the lower parts of the Romanesque altars were displayed in the apses of the transept. Under the rainbow arch of the presbytery, there are the late--gothic sculptures from the 16th century, while on the walls there are thesculptures of kneeling angels (the first part of the 18th century), originally from the baroque altars of the collegiate.